< Back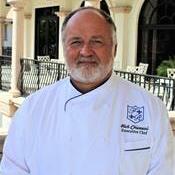 Rick Chiavari
Executive Chef
561-630-0333 ext. 140
RChiavari@frenchmansreservecc.com
Chef Rick's Culinary career began with graduating from the Culinary Institute of America in Hyde Park, New York with a Hospitality degree in Culinary Arts. Since then, Chef Rick has been involved in many different aspects of the Food & Beverage industry including owning his own business overseeing major events such as the Winter Olympics and the Indianapolis 500, and working in a variety of restaurants and Clubs.
Preceding his decade as the Executive Chef of Turnberry Ocean Colony in Sunny Isles, Florida, he was the Executive Chef at Porto Vita Villa Grande Club in Aventura, Florida for 12 years. He worked with the Unique Restaurant Group in Boca Raton before that overseeing different Prezzo locations and troubleshooting labor, purchasing, food cost and menu development. Furthermore, Chef Rick's restaurant experience also includes the exclusive La Reserve restaurant in New York City under Chef Bernard Herman and the famous "Claudes" restaurant NYC under Claude Bailles while simultaneously acting as the Assistant Pastry Chef at Le Petite Marmite.
We are very excited to have Chef Rick, along with his extensive knowledge and experience in the Food & Beverage industry, as a part of our team!