Spa & Salon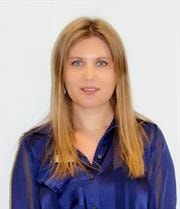 Lily Schultz
Spa Coordinator
561-630-033 x131
561-799-9989 (D)
ISchultz@frenchmansreservecc.com
Lily was born and raised in Romania and came to the United States in the Fall of 2005. When a Food & Beverage position opened at Frenchman's Reserve in 2008, Lily took the opportunity to showcase her Hospitality skills. She worked hard in the F&B department for several years and was offered an opportunity in the Spa & Salon here at Frenchman's Reserve. Lily embodies great passion and exceptional service skills which makes her a perfect fit as Spa Coordinator. Lily currently resides in Palm Beach Gardens with her husband and is pursuing her degree at Palm Beach State College.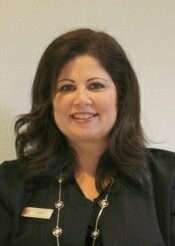 AnnMarie Smith
Hair Stylist
AnnMarie is our stylist with a passion for hair and beauty. Originally trained in New York with 30+ years experience, she believes a positive attitude, continued education, and effective communication is key to being successful. Do what you love ! Love your hair!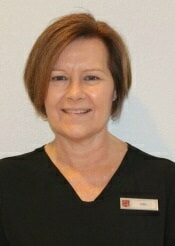 Linda Leet
Facial & Massage Therapist
Linda has lived in the Jupiter area for over 35 years with her husband Andy. She found her calling in the healthcare industry 12 years ago when she went to school for massage therapy. She spent the time since graduating keeping current in new massage modalities that have proven to help and heal her client. Three years ago she returned to school to become a facial specialist. She can now help her clients on the inside and the outside.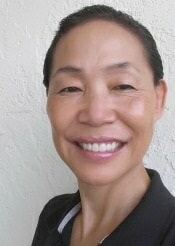 Keelee Wright
Massage Therapist
Keelee was born near Seoul, Korea and has over 25 years of experience in Swedish, Shiatsu and Intuitive Massage. Compassion and listening to clients needs is what helps Keelee excel at assisting in relaxing and facilitating in their healing. Through deep tissue and aromatherapy, reflexology, microcurrent point stimulator, pregnancy massage, and just recently expert facialist, Keelee will cater to your needs.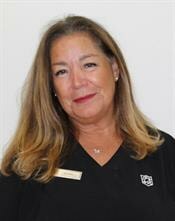 Susanne Girouard
Nail Technician
Susanne has over 30 years of experience in the Nail and Salon industry. She is a former Nail Salon Owner and has left her legacy in Morristown, NJ. Susanne has talent and love for all nail services and enjoys seeing all the Members here at Frenchman's Reserve Country Club.
Kimberly Donofrio
Nail Technician
Kimberly's passion for nails started when she moved to California. Once she completed Nail School at a Touch of Beauty, she opened her first salon in Tustin, California. She later opened three more salons in Michigan and Alabama. Kimberly can perform all nail services such as manicures, pedicures, hard gel, gel polish, dip-color nails, acrylic, etc. Since moving to Florida, Kimberly has raised her 6 children and 3 grandchildren.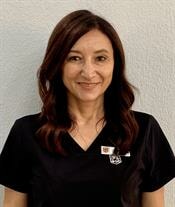 Daniela Muraru
Hair Stylist
Born and raised in Romania, Daniela came to the United States in 2006. After working in the Hospitality industry for several years, she finally pursued her dream to be part of beauty and hair industry by attending Hair Design Institute of Boynton Beach, Florida in 2010. With her artistic vision and attention to detail, she enjoys working with clients to come up with styles individualized to their needs. She specializes in creative color, cutting and Brazilian Keratin Treatments, keeping up with the latest techniques and hair trends as they appear on the fashion scene.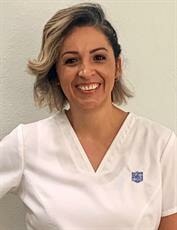 Yessica Torres
Facial Therapist
Yessica has been in the beauty industry for over 15 years and is trained in medical aesthetics. She specializes in hyperpigmentation, and anti-aging treatments such as microdermabrasion, chemical peels, hydro facials and many other aesthetic treatments. Yessica has a passion and commitment to improving all of your aesthetic needs.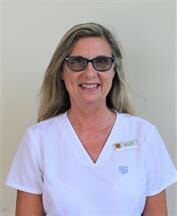 Kelley Kuykendall
Massage Therapist
Kelley is originally from Atlanta, Georgia and has lived in Palm Beach Gardens for 5 years now. She received her Massage Therapy training with certification from Rising Spirit Institute of Natural Health (now known as Gwinnett Technical College Massage Program) in March of 2002. Kelley received her continuing education from Gwinnett Tech, LMT Success Group, Castine Consulting LLC, CE Broker, and The Upledger Institute. She was the previous owner of Therapeutic Touch Massage, Inc. in Villa Rica, Georgia. She joined the Frenchman's Reserve team in 2017 where she loves to help in the healing process of tense and strained muscles. Kelley also loves being a mom to two wonderful grown sons, Taylor and Scott.